It was always a good idea, but in this new world where conferences and live events are canceled for the foreseeable future, Orbit CME is a great idea.
(I previously got temporary free access to Orbit for the purposes of writing this review over a year ago, and I've got the usual reader discount affiliate link combo for you here: $20 off any plan. As there aren't any ads here, these types of win-win situations for good products are one of the only ways I earn money through my writing. So there's your COI disclosure.)
Orbit is a web browser plug-in that promises to automatically track and quantify the qualifying educational activities you do every day on your computer and then provide you with effortless legit AMA PRA Category 1 CME (often including the somewhat more challenging "self-assessment" SA-CME that some fields require that you typically get for answering questions during each lecture at a medical conference or other interactive activity).
How does it shape up?
Pretty darn well. In order to deliver the value of your subscription, you need to have the abilities/privileges to install the orbit browser plug-in (which is currently only available for Google Chrome). This plugin monitors your browsing and triggers whenever you visit a website that might come in handy for CME, like UpToDate, PubMed, Radiographics, or Radiopaedia. It measures your time with that active browser window, and generates an entry in your CME log. You can then choose which entries to actually spend a credit on to get the CME for it, in case you need certain types (like medical ethics in Texas or MQSA, Cardiac CT, fluoro, etc).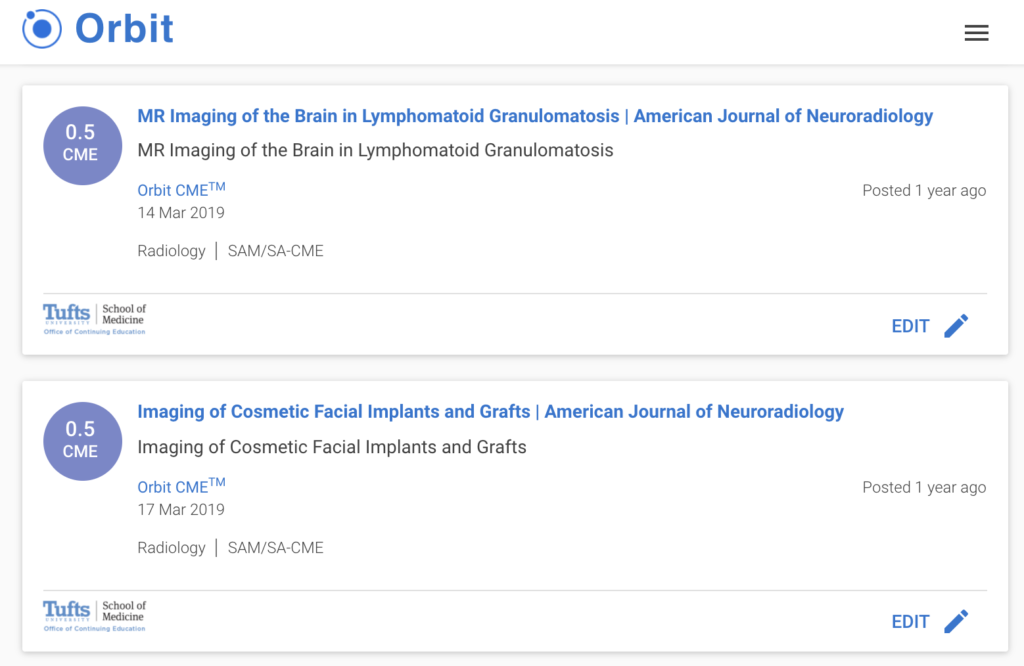 For example, while the hospital PCs only had internet explorer installed until recently, I had no problem using Chrome with the plugin when I worked at imaging centers or from home. As a radiologist, I earned CME so fast just from my usual day-to-day work that even if only using it on my home PC I would have been able to get the entire year's worth of credits within a month or so, at which point I just uninstalled the plug-in.
Every once in a while I would have random difficulty logging into the plug-in (which does require logins periodically to make sure you're still you), but otherwise, the process was completely seamless. CME is provided through Tufts, and you can download detailed CME logs for submission to various bodies that require such things.
You can also post external CME to the Orbit site allowing you to track all of your CME in one place and generate one report containing everything you've done. Very handy.
When I first discussed the product with the Orbit founding team back after finishing fellowship, I couldn't help but feel that the price was too steep and thus not worth it ($360/yr for 25 credits; $600/2yr for 50 credits). But then I saw how truly effortless it was and how much a hassle the documentation burden of CME can be. If you enjoy conferences, it'll always be possible to get enough CME through the activities you plan on pursuing anyway. If you're in academics, you may acquire enough through your work activities like tumor boards and grand rounds to not need anything else.
But for those who don't–and certainly in the current COVID world we live in where nothing is happening except remotely–I would rather pay to have my CME automatically generate itself than to do so via a virtual meeting (or some other laborious educational activity). I've got an infant and a preschooler, a busy practice, and a bunch of hobbies that are struggling for a minute of sunshine. I do CME every single day I work, and this gives me credit for that. Even if you get CME from other places like I do, there was something especially nice about not needing to bother tracking it down or keeping personal records because Orbit gives you everything you need anyway. If you have an academic/educational/CME fund, it's definitely money well spent. It also works for PAs and NPs in addition to physicians.
The product was initially designed by a radiologist for radiologists, and it is absolutely perfectly suited to our workflow. But it also works well for many other specialties, and they have a handy table here telling you what kind of CME plugin can get you relative to the demands of your specialty society.
I'll be subscribing again.