Student loans are now depressingly the largest category of consumer debt outside of mortgages. In 2017, I published a book about managing student loans for medical students and doctors. In early 2018, I extensively revised that into a new book for a general audience. And they've been revised continually since then, most recently in May 2019.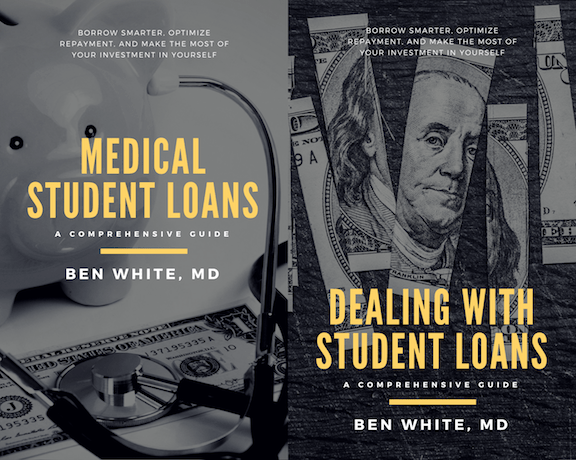 So, there are two versions of this book on how to manage your finances and student loans: one for doctors, one for everyone else. These are around 45k words, so they'll take a few hours to get through, but it's time well spent. You could buy them on Amazon and Apple iBooks:
They're good. Don't believe me? Ask Dr. James Dahle, author of The White Coat Investor:
[Dr. White] does a fantastic job…I wish I had written the book. But more than that, I wish every medical school required it to be read before you could receive your first student loan.
AND, as of December 2018, you can also get them totally free by dropping your email right here.
---
---
You'll receive an email with download options including mobi (Kindle), epub (iBooks and every other e-reader), and (printable) PDF. If you don't want to hear from me again, just immediately hit that friendly unsubscribe link I've conveniently included in the first sentence of the email. Poof. It's like you don't even know me.  
Topics include:
Borrowing less and minimizing interest accrual during school
How Federal Loans Work & Federal Repayment Options
Income-driven repayment (IBR, PAYE, REPAYE, and ICR)
Federal "Direct" Consolidation
Forbearance & Deferment
Public Service Loan Forgiveness
Maximizing PSLF
Long-Term (IDR) Loan Forgiveness & Loan Repayment Programs (LRP)
Private Refinancing
Taxes & Retirement
There are very few good resources for student loans and a lot of misinformation. I wrote these books because no one else had. I hope you enjoy them.