The ABR has requested that I not use their logo or any images anywhere in this post lest there be any confusion about our non-relationship and non-endorsement. I have of course complied. Let me take this chance to also remind readers that the writing on this site (benwhite.com) reflects the wholly personal views of Ben White (that's me!) and not any organizations or institutions which I have ever been, currently am, or will ever be affiliated with. Of particular relevance, I have no endorsement from the ABR and possess no insider knowledge. I merely took an exam, and here are my thoughts.
This post details my thoughts on the entire process of registering, traveling, taking, and eventually passing the Core Exam. The ABR's exam information page is also helpful. To see photos of the testing center setup that I refer to in this post, please see the ABR photo gallery.1Images of the buildings below are from Google street view.
Updated March 2021.
As of 2021, the exam is now and forver virtual. No travel to Chicago or Tuscon required. The exam takes place over 3 days instead of 2. Additionally, it is no longer possible to "condition" the physics section. Physics will now be graded as just another section on the examination along with everything else. I've keep the older material here for historical interest but added in more recent info to stay relevent.
Exam Registration
You will get an email to register for the Core Exam sometime in mid-March (assuming you've paid your dues every year). In 2016, invitations arrived on March 21 at 11:02 AM CST and looked something like this: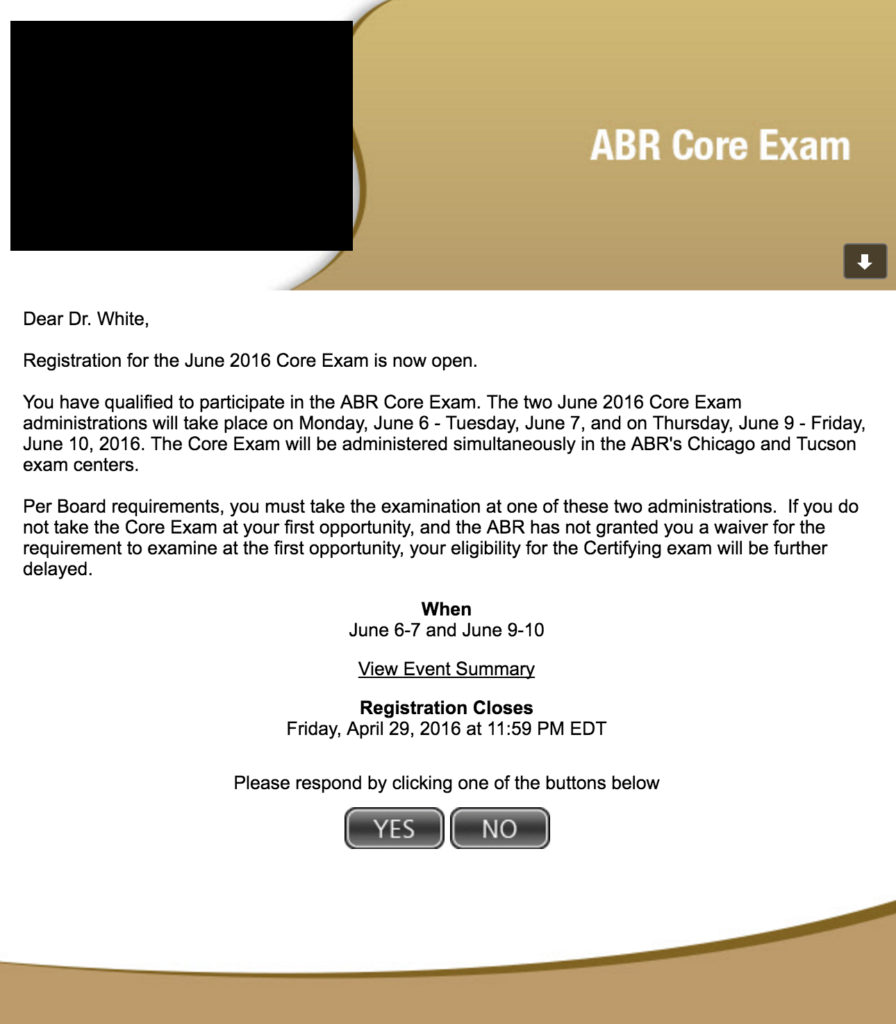 Registration is first come first serve, so if you have date/location preferences, you'll want to make sure the email address on file with the ABR is something reliable like Gmail and not your work email which could potentially mark it as spam.
Note: The recommended hotels for both sites allow for free reservations and cancellations, so you can, in fact, reserve a room at both in advance of actually choosing a final site. Links to the chosen hotels and discounts are on the exam info page.
Changing testing date/site: When registration first opens, reservations are first come first serve and rapidly fill. As a result, they disable the change functionality. After a day or two, you'll be able to change your location and/or date, though not options will still be available.
Tucson vs Chicago
There are more slots and time options at Chicago. Both centers offer Monday/Tuesday and Thursday/Friday options. There are fewer spots available at the smaller Tucson ABR testing center (capacity 180) vs Chicago (capacity 560). When it comes to picking your return flight, day 2 lasts a maximum of 6 hours (5 hours for the test, 30 minutes to check-in, 30 minutes break).
Tucson
Tucson's ABR is located at 5441 E. Williams Circle, Tucson, AZ 85711. The experience is pretty smooth though definitely very hot.
Travel:
The big downside to Tucson (other than 110+ degree heat in June) is the flight selection. Flights are somewhat sparse depending on where you come from, as it's a relatively small city and not a big transport hub. The airport is 10 mi from the center. There are multiple walkable hotels, so a rental car is not necessary if undesired. There are plenty of restaurants walkable from the site (BJ's, Monkey Burger [really good], Olive Garden, Five Guys, Pita Jungle, etc) as well as a Target for snacks and fashionable home decor.
One alternative is to fly into Phoenix (which has more flights) and drive over, which could be fun if you do it with a group. It's about one hour and fifty minutes from the Phoenix airport to the ABR. If you want to make a trip of it, Saguaro National Park is nice, and the Grand Canyon is a little over 3 hours drive north (the other direction) from Phoenix (5 from Tucson).
You can definitely take an afternoon flight out, as the test runs 5.5 hours the second day including break (and many people finish early). Given an 8 am start time, for example, you should be done by 1:30 pm at the latest. A 4 pm flight would give you plenty of time.
Lodging:
The ABR recommendation is the Courtyard Marriott, which is literally adjacent to the testing center. I stayed at the Marriott Residence Inn, which was also part of the ABR bloc and closer by around 15 seconds. The rooms are large with full kitchens, sitting areas, etc. Both are very comfortable, include free breakfast, free wifi, are easy/convenient for the exam, and have been not horribly expensive at $134 with the ABR discount in the past. The Hilton DoubleTree is across the street and is a more fun 1-minute-drive than walk.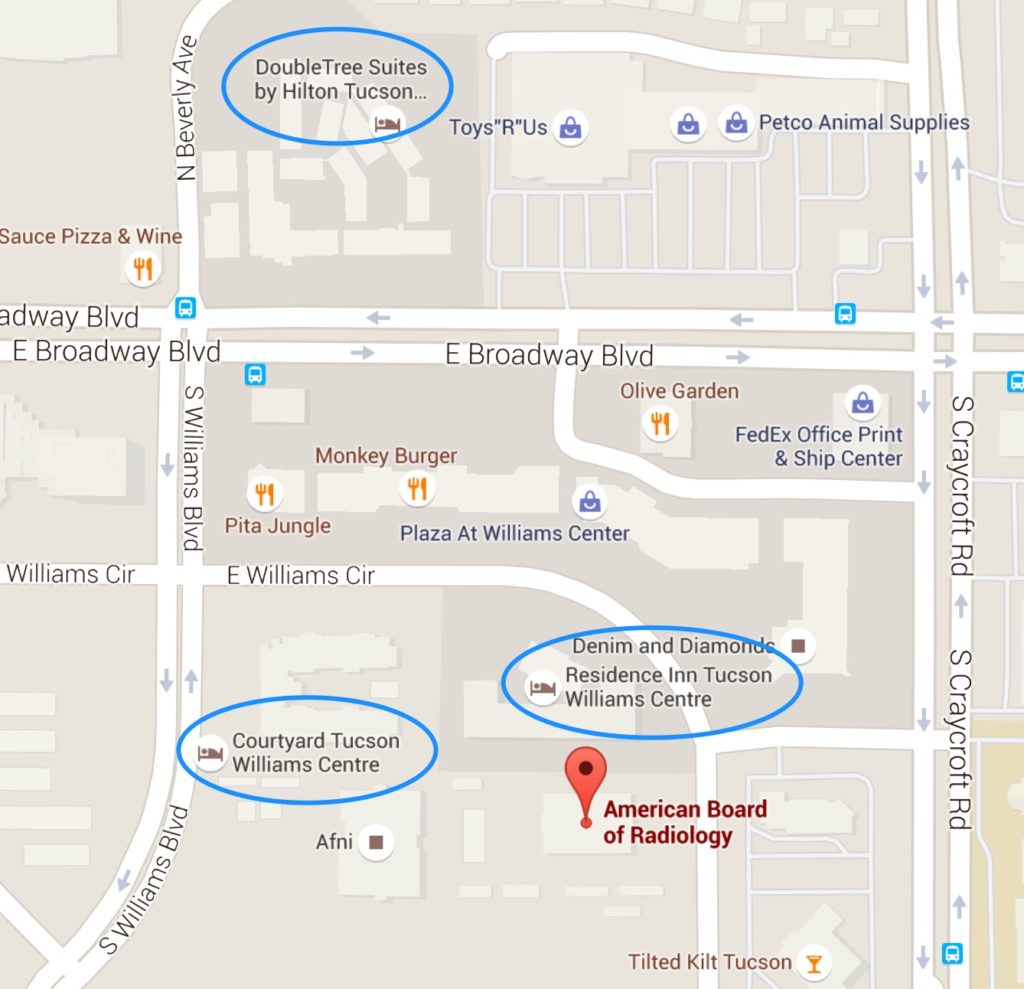 Testing center Experience:
My total walk time from the hotel was approximately 30 seconds. Tucson was 113° on my first exam day, so you may still want a drink to get you through that half-minute outside.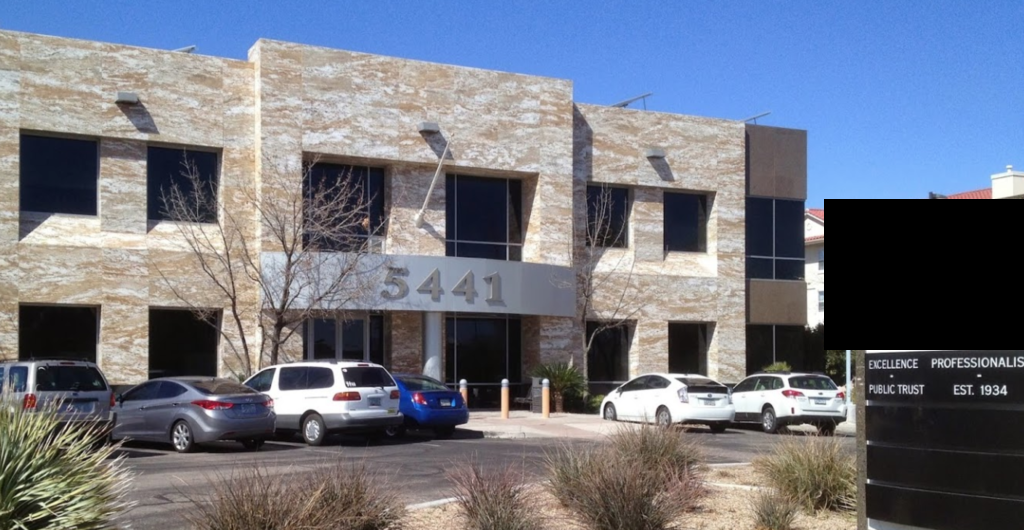 You'll line up outside and prepare for what looks like TSA redux, but it moves pretty quickly.
Imagine looking at an airport security line with a few computer stands
Eventually, you use a laptop to check in with your name or ABRID, then the computer takes a photo of you and prints out your card.
Imagine a close up of a laptop on a small stand with wheels attached to a printer
You show the card and your driver's license to the staff who confirm that you're you, and then you're off. There is no pat-down or metal detector wanding. There is no additional check-in or check-out process. You can bring food and drinks and store them in a locker (ABR provides unlimited bottled water). Should you bring a cell phone, it goes into a separately guarded cubby like a coat check.
Imagine a large testing center filled with a bunch of nondescript computers under harsh fluorescent lighting with a monitoring station in the middle
As mentioned—unlike Prometric—you don't have to go through a convoluted fingerprint and ID check process to take a break. You just hit the break button and walk out. You have access to the bathroom and your food, and you can go in and out as much as you want. Yes, that's right: you can walk in and out of the exam room freely, which is admittedly a really pleasant change of pace from other testing centers. There is a person they have posted in the corner the bathroom to make sure nothing fishy happens, which is a little bit creepy. (There is no longer a permanently stationed bathroom monitor as of 2018). There is no talking. The testing center is just hundreds of people packed into a concentrated knot of misery.
Despite the heat, I recommend wearing pants and bringing a sweater/fleece, because the testing center is somewhat cold, as one might expect.
The Remote Exam Experience
Starting in 2021, all ABR exams are now remote/virtual.
With the new virtual exam format, you can take the exam from your computer at home in your pajamas. You can still take a break whenever you want, but now you can eat whatever snacks you want and use your bathroom with the finest toilet paper you can afford.
Any optional breaks will lock all previously seen questions. Additionally, previous questions lock after every 30 questions, which means that those folks who like to mark questions to review at the very end for their remaining time can no longer do so.
Chicago
Chicago's flagship ABR is located at 5440 N. Cumberland Ave., Suite 200, Chicago, IL 60656. It's less pretty than the marbled facade our test dollars purchased for Tucson.
Travel:
Typically lots of flight options through O'Hare, which is right near the testing center. Midway Airport is further away from the ABR but not a deal-breaker by any means if the flight is what you need. Again, as in Tucson, late afternoon flights home after Day 2 are doable.
Lodging:
I'd recommend staying at the nearby Marriott Renaissance Chicago O'Hare Suites Hotel, as this is the "headquarters hotel" and literally where you meet in the morning and check-in prior to being shuttled to the exam center. It's usually about $170/night and includes breakfast and free wifi. Since this is right next to the airport, there several other nearby walkable hotels.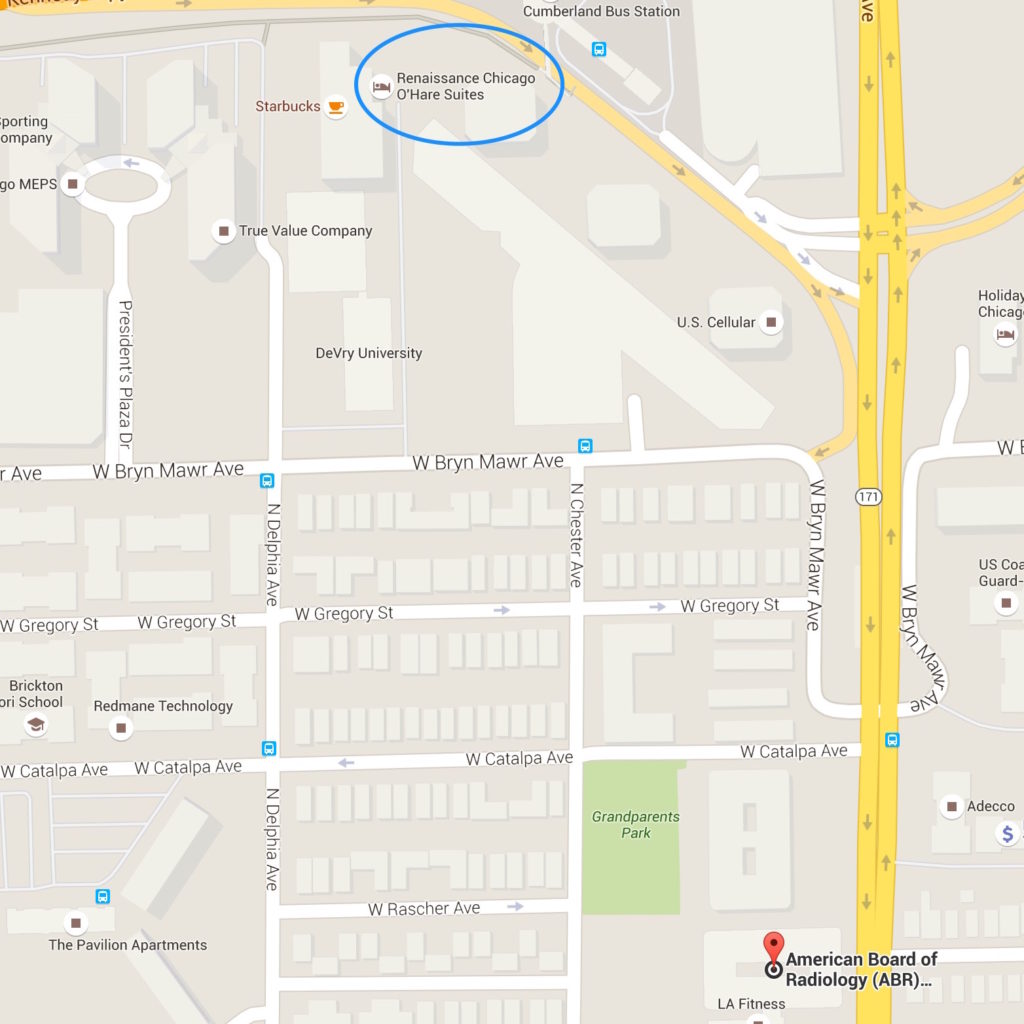 Testing Center Experience:
So you arrive at the Renaissance at your appointed time. After check-in, where you must surrender all your goodies except food (ID, sweater, etc), you'll be put into a blank "ready room," where you silently and awkwardly awaiting the shuttle that will take you the 5 min drive to ABR's Chicago testing center.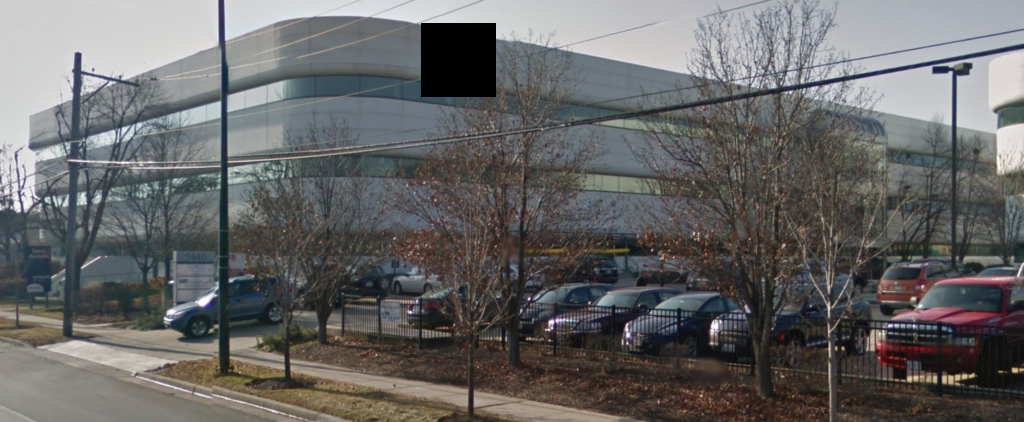 At this point, everything is the same as Tuscon regarding on-site registration, the creepy bathroom monitor, lockers to store your wallet and food, etc. Just bigger (and, in 2017, with a chance of catastrophic technical failure)
Imagine the same check in and testing room as Tuscon, just much bigger
Location Verdict
Seems like Tucson is an overall slightly more pleasant experience assuming the travel itself is a wash and you don't want to do anything else after you're done. It's worth looking up flights ahead of time to see if either site makes more sense from a travel/cost perspective. You can reserve a hotel room in both locations with the ABR discount ahead of time if you're not sure where to schedule the pain (free cancellations).
The Core Exam Itself
This is the cubicle set-up up close:
Imagine a random desktop computer with a decent monitor
Yes, this is the magical technology that can be replicated nowhere else and demands a cross-country trip. Image quality on the exam ranges from fine to intermittently terrible. The screen is not the limiting factor (the question writers pulling MRI images from the '80s is a more pressing issue).
Update 2021: Well guess what, it turns out you can replicate that technology literally anywhere else.
The exam is a big block of 360 questions on the first day and 297 questions on the second (total of 657). You get 1 min per question and thus 6 hours the first day and 5 hours the second with an additional 30 minutes of break time for each. Add on half an hour to check in (less in Tucson), then it's 7 hours total day 1 and 6 hours day 2. To take a break, you just hit the "Take a Break" button and walk away, using your individual testing number to sign back in and continue when you return. You can take breaks once you use up your break time the same way, but at this point, your exam time continues to tick down.
As of 2021, the exam now takes place over 3 days with two sessions per day. Day 1 is 120 + 120 questions. Day 2 is also 120 + 120 questions. Day 3 is shorter with 120 + 57 questions. The total still clocks in at 657 questions.
As you will see when you attempt the official practice exam questions or any of the qbank products, Core questions are very short and to the point. Typically, the finding is immediately evident on the images and will elicit a knee-jerk response. In many if not most cases, you'll simply either know it or you won't. Everyone's gauge will be different, but to give you a rough idea of mine: I felt that approximately 40% of the questions were super easy/giveaways; 40% required thought but ultimately I could arrive at a satisfying conclusion (wrong or right who knows); 20% were straight-up ridiculous. Maybe 50/30/20 on some sections. In practice, this of course depends on your own preparation in different fields (classic Aunt Minnie's can seem impossible if you happen to have not seen that particular testable pearl before). You'll likely be able to narrow down the hard ones slightly based on the answer choices, but there will be plenty of questions you'll be forced to guess arbitrarily on, especially for the cases where you either cannot make the finding, cannot interpret the obvious abnormality, or tests a physics/nucs factoid or second-order trivia you simply don't know.
So there is more than enough time to finish the exam. Taking my time and going over my flagged questions, I still had over an hour extra both days. I also drank multiple room temperature Diet Mountain Dews, fistfuls of fudge-covered Oreos, and probably went to the bathroom a dozen times.
The vast majority of the exam is in the simple straightforward "single best answer" format. The linked vignettes—where the first answer is locked in before moving on—were relatively rare. Other styles, like the drop-down format (single best answer with a long list of possibilities), true/false, and applying yes/no to multiple statements all made token appearances.
Likewise, most questions are based on a single image (or a handful of static images). There are a few CT and MRI image stacks, but these are often comically short (like 3-5 scrollable images) and apparently always in one imaging plane. Cine clips are peppered in for cardiac and ultrasound (but stutter horribly and are hard to manipulate). So despite the new format and money/time to develop it, the test is rarely different/modernized compared with the format of the in-service.
There are 18 sections that appear to be primarily divided between the two days.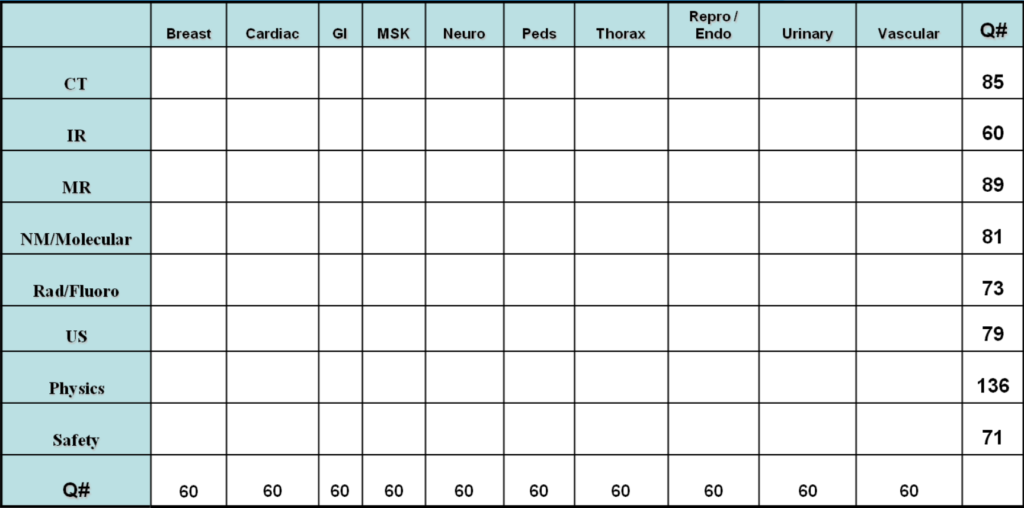 On our 2016 test, this division seemed to follow the order listed above with topics like physics, nucs, and NIS distributed throughout and appearing on both days. This has been true in prior years as well. It was something like:
Day 1 Breast, Cardiac, GI, MSK, Neuro, Peds
Day 2 Thoracic, Repro/Endo, Urinary, Vascular
In 2017, the content was still spread between the two days but now mixed together within the day. The bottom line is that if you plan on studying after day 1, you can focus on the topics you haven't seen yet (with the caveat that questions can both overlap and/or double count, so you could have peds GU questions in the GU section on day 2 or in the dedicated peds section on day 1). Of course, this would also be something simple to change at some point in the future (though if topics became totally jumbled, it should be easy to tell on the first test day).
On the first virtual administration in February 2021, the content was divided between three days. It went something like this:
Day 1 AM: MSK, GI
Day 1 PM: Peds, neuro
Day 2 AM: Cardiac, Breast
Day 2 PM: Thoracic, VIR
Day 3 AM: GU, Repro/Endo
Day 3 PM (shorter session): Random physics/safety, NRC, RISE
As you might guess, examinees were particularly displeased with the content of the final section.
Exam Results
In 2016, results were released on July 12 at 12:26 PM CST, which was about a 5-week wait. The aggregate results from this year are still forthcoming, but from 2013-2015, the condition rate (physics only) has been around 1% with an overall pass rate between 87-91%.
The ABR states that scoring of the exam is "criterion"-based and not "norm"-based. This means that theoretically each question is fair and designed to be answerable by a proportion of "minimally competent" radiologists, and the performance of other residents is irrelevant to your score. To back that up, they do not provide mean and percentile information on the score report. This may technically be true, but saying it's not norm-based is only a half-truth. Your particular exam is not normalized in that fashion, but one imagines that the overall scoring thresholds and test composition are certainly based on maintaining a passing threshold similar to the old boards (i.e. hardly a coincidence).
The Angoff method used has a panel of "experts" grade each question with the proportion of minimally competent examinees they believe would get the question correct. They sum the average of each question together to get a raw score, which then becomes the passing threshold. Sounds scientific? Amusingly, the long-held rumor is that the ABR misestimated the difficulty of the trial-run exam given back in 2013 before the first Core Exam such that if they had applied their original threshold predictions, everyone would have failed.
Instead, like the USMLEs, the vast majority (~90%) of people will pass.
Why does no one condition anything other than physics?
Historically, the official explanation is that the physics conditioning threshold is higher (350 instead of 200) than the other sections, such that people either fail just physics or do so badly on the test that they fail the entire test. With almost 1200 people taking the exam, a 1% physics condition rate is only 12 people. So that's plausible, but I think the deeper explanation is that they purposefully kept the individual section condition failure rate low (there are only 60 questions for the organ-system categories) because they weren't yet (or ever) comfortable making people travel across the country because of 1 or 2 relatively unvetted questions to take a tiny little test that you can finish in under an hour. The fact that all scores (for the sections and the overall test) are given as a 150-800 range is an abstraction that gives them a lot of flexibility. The big threshold difference between passing the total exam, 350, and conditioning a section (200) implies that there's a big gap in what constitutes a poor (fail-worthy?) performance on a topic and actually having to retest that topic. Convoluted? You bet.
In fact, for 2018, they simplified the convoluted two-stage scoring and stopped pretending that people can condition anything other than physics. Starting in 2018, there are three possibilities:
PASS if you get a score of 350 or higher when averaging all sections together and specifically pass physics
CONDITION if you pass the overall exam but score less than 350 on physics
FAIL if your overall score is less than 350 when averaging all sections together
In "stage 1" your total exam is graded and if you're below the "pre-determined threshold" of 350, you fail. So if you're overall average is below 350, you're re-taking the whole exam.
If your overall performance is at or above 350, then you move on to "stage 2," where each of the 18 sections is graded separately:
If you don't pass 6+ categories (less than 350 for physics or 200 for everything else): you fail the whole thing. The ABR says this is actually pretty uncommon because if you fail a bunch of sections (<200), then your overall score is likely below 350 and you would have failed in stage 1.
If you get <350 on physics or fail another category <200 for a total of 5 or fewer sections: you condition the exam and repeat just the failed sections. In practice, only physics has even been conditioned. Again, the ABR argues that anyone getting <200 on a non-physics section has thus far failed the entire exam based on the above two criteria.
There is a green bar for each section labeled "passing score" on the score report, which is set at 350. This would lead you to believe that a passing score for an individual section is 350. And yet it's not. The threshold (except for physics) for failing a section is the conditioning threshold of 200. A score below 350 on a non-physics section means relatively weak performance compared to the ABR's thresholds (as used for stage 1) but has zero significance on grading. So confusing.
To repeat, in the ABR's words:
If you pass every category, your overall result is "Pass."
If you fail 1-5 categories, your overall result is "Condition."
If you fail more than 5 categories, this exceeds the acceptable number of failed categories, and your overall result is "Fail."
The relationship between these magical numbers and any objective performance is shrouded and thus essentially meaningless to all test-takers.
So there is still no word on when residents will begin conditioning sections other than physics. My guess is not for the foreseeable future.
In 2021, the ABR quietly changed the scoring of the exam during the Core Exam scoring process to remove the ability to condition physics. Now, physics is just another section of the exam, not a disproportionately powerful one. This is a welcome change. The prior power of physics is a holdover from the pre-Core era when there used to be a completely separate dedicated physics exam. Good riddance.
For now, rest assured that if your in-service scores were above the 30th percentile and you study, you're probably very safe.
See the rest of the Core Exam series: