With the recent advances in LLMs, I suspect dictation improvements are one of the things that will be increasingly available in the very very near term future (though how cost-effective those plugins or replacements will be remains to be seen).
In the meantime, PowerScribe is ubiquitous in radiology practices across the country, and it's the only dictation software I use in my job. It has many flaws, but there are plenty of things we can do to make the most of it.
If you've been using PS for a while, you will likely be familiar with at least some of these features, but a lot of radiologists just use it like a stubbornly inaccurate transcriptionist.
Here are some tips for making PowerScribe (360) suck less:
First, Save a Syllable (or Two)?
You can change the trigger word for AutoText macros from the default "PowerScribe" to something shorter.
Tools>Preferences>Dictation>Auto Text voice command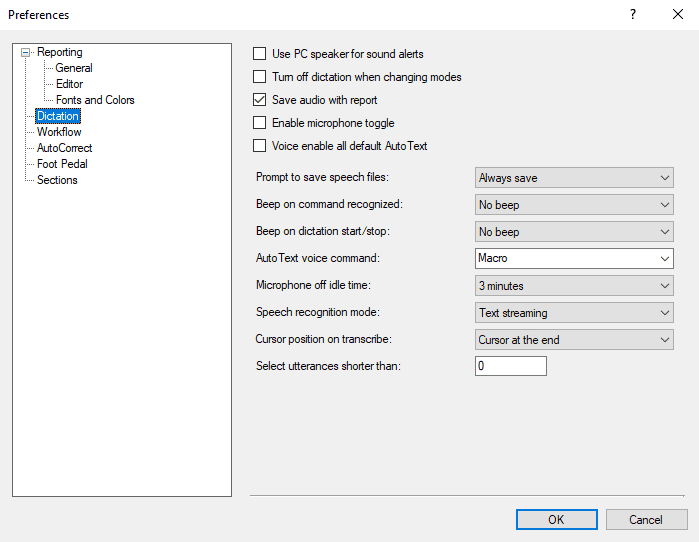 Your default options are PowerScribe, Dictaphone, Macro, and AutoText. Of these, "Macro" is the shortest. You can also click in the textbox and choose/type your own.
Fast Macro Creation
Anytime you say something and think "I say that a lot," it should be an AutoText macro. Highlight the text and say "macro that": PS will pull up the AutoText editor prepopulated with the highlighted text. Give your new AutoText a name, save it, and enjoy your efficient future.
In my view, this is not a justification to plump up your reports with needlessly long or useless verbiage. Macros are a great tool that should be used responsibly, and they should be as short as possible while still getting the relevant message across [Dismount soapbox].
Improving Accuracy
In addition to AutoCorrect, which we'll get to in a moment, there are two ways to directly improve transcription accuracy: "Spell That" and "Train Phrase."
Right after PS transcribes something incorrectly, just say spell that and a window will pop up. Either select the correct choice from the options or type whatever you want. Get into the habit of using "spell that" whenever you can. Many people believe that it's the most effective way to train your speech profile.
(As a corollary, try to avoid typing corrections, which can degrade your speech profile over time. Either re-dictate or, better yet, "Spell that" and then type your correction.)
When you want PS to get better at transcribing words that are already in your report (like when it took multiple attempts or you gave up and typed it manually), you have two choices:
Highlight the correct text and say train phrase. You'll be prompted to dictate your phrase. Give it a few tries (I usually do three).  
Highlight the still incorrect text and say spell that. You'll be able to edit the transcription to the text it should have been as above.
So to summarize:
Wrong in the report? "Spell that"
Adding new words and phrases to your repertoire? "Train phrase"
Note: You can delete problem words from your dictionary if you never use them (i.e., you never say "x" in reports, but PS often dictates x when you say y. So just delete y from the dictionary by right-clicking and selecting "Remove from Vocabulary".) You can access the Vocabulary Editor itself to add/delete words/phrases in bulk from Speech>Vocabulary Editor.
For words you do use, training both the correct and incorrect words will help PS learn to differentiate between them.
Also, note that the accuracy of your microphone is in part related to volume. This should be calibrated intermittently, especially if your reading context varies (positioning, background noise, etc). If you are holding a dictaphone, ideally hold it at a steady distance at all times (which is really a vote for not actually holding it all). You can always re-calibrate the audio levels via Speech>Audio Setup.
AutoCorrection
If PowerScribe routinely transcribes specific incorrect phrases, you can "AutoCorrect" them by right-clicking on the word(s) and selecting "AutoCorrect…"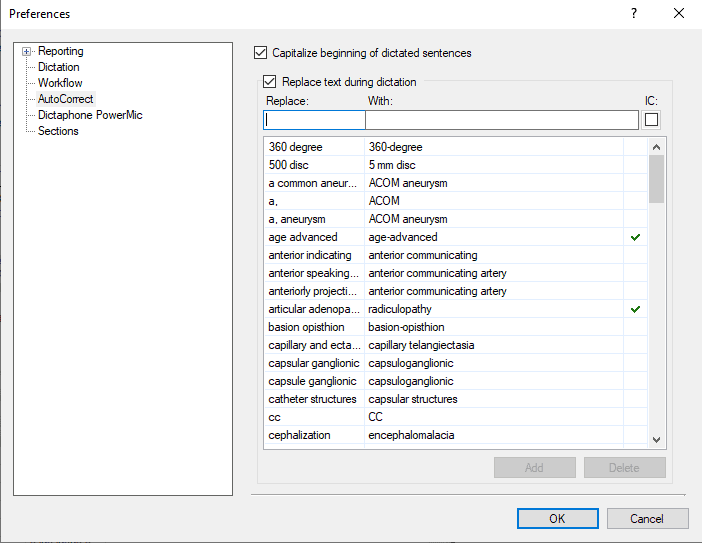 Note, sometimes Powerscribe will seem to deliberately mess with you. You will use AutoCorrect to replace a useless combination of words with the phrase you actually want, and then, when you say the thing you want again, Powerscribe will create a brand new even more bizarre useless phrase instead of giving you what you want. It may take a bit of cat and mouse in order to consistently get the results you want. I have 7 different auto-corrects for "disc osteophyte complex," but now I can essentially mumble anything remotely close to that and get the right phrase as the result. It's refreshing.
You can also use AutoCorrect to create verbal shorthand. For example, by autocorrecting "ligamentum" to "ligamentum flavum," you'll automatically get the latter by just saying the former. As a neuroradiologist, this small change has saved me a lot of syllables over time (yes, the ligamentum teres is dead to me).
The autocorrection linkages don't even necessarily have to make sense, as this is entirely different from training phrases for dictation to be more accurate. You can technically escalate this to arbitrary code words or literally anything else you want, though I've found highly variable success with individual shortcuts this way.
If you find yourself always adjusting capitalization, hyphenation, or other punctuation, these are all things amenable to AutoCorrect.
The AutoCorrect menu is also in Tools>Preferences.
AutoHotkey
Additional report polishing and autocorrection can be achieved with some simple scripting in AutoHotkey. In this post, for example, I share a script that will remove the annoying double periods and extra spaces that are often inserted by dictation.
Making the Most of Pick-lists
You can have a ton of macro phrases, but you can also do the extra upfront work of incorporating some of those commonly used phrases as options within pick lists. You can always still freely dictate over pick-list fill-in fields when necessary, but having some baked-in options saves you the need to say "macro" over and over again.
For example, you might have a fill-in field in your abdomen/pelvis report that currently says "Kidneys: [Normal]" (or some longer pertinent negative equivalent). You could instead have "Normal" be the default option in a pick list, with additional choices like "Benign simple cyst(s)" or "Tiny renal hypodensities too small to characterize but likely cysts."
Note: You can have other AutoTexts including pick-lists within pick-lists (*Inception horn*): Just press the button "AutoText…" when you add a new choice. Doing this means that updating the source AutoText will automatically update all the pick-lists that call it (which in turn makes future changes much less painful).
One extremely helpful feature to make the most of this templating style is that you can use the "optional label" field of each list choice as a verbal call. Pick something short. In our above example, we might use "simple" and "tiny" as our labels. When the field is active, you just say that verbal shortcut and the list will insert the correct choice. You should never need to actually click a choice in a pick-list. You can also navigate a list automatically by number (i.e. "pick 2" selects the second choice). Here's another example of a fill-in field for the upper chest/lungs on a neck CT: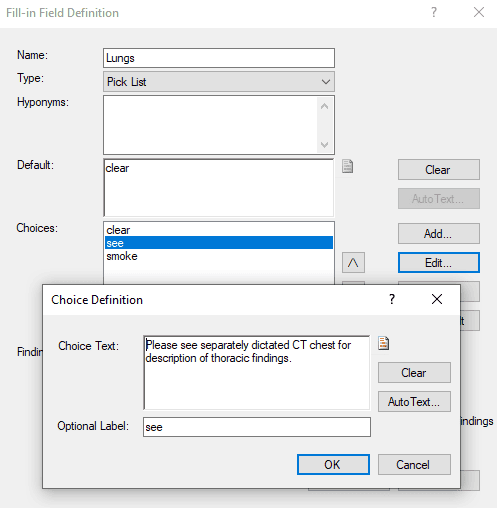 Picklists are also very helpful for making the most of the technique section of your templates, like quickly adjusting the views of a radiograph report: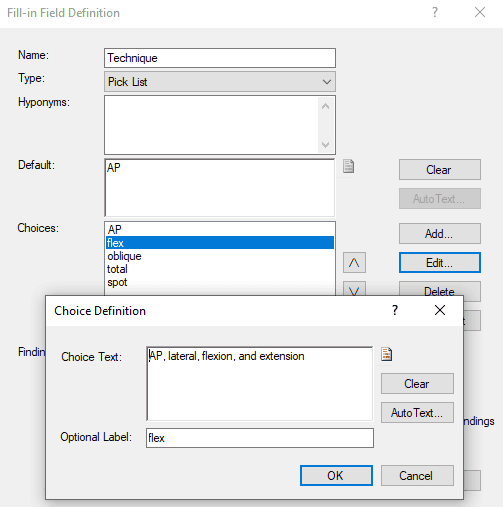 More Verbal Shortcuts and Tips
"Undo that" or "Scratch that" will undo the last action, dictation or typing.
For lists: "Start numbering" and "Start bullet" for making lists. You can also highlight several lines and use the trigger phrase and it will add them all to a list accordingly. "Stop numbering/bullet" will turn off the list.
Saying "PowerScribe" prints today's date. "PowerScribe yesterday" does exactly what you'd think it does.
If dictation is active, you can say "ok" when one of those pop-up boxes like the "spell check is complete" one and it will go away.
You can navigate through the report by voice using "previous field" and "next field," which is an option when first working on a hands-free dictation setup. There are better ways.
Give your fill-in fields simple names so you can say "Field pancreas" and navigate directly to the pancreas field. Note: You don't need to use a so-called "structured report" to have templates that have fields and field names. The decision to structure a report has nothing to do with the decision to have a template or to do the extra work to make it navigable, organized, or easy to fill in with your common verbiage.
If your fill-in field is just numbers, selecting "Type: Numeric" will help with accuracy.
Visit Speech>Formatting for a variety of random spelling, punctuation, and formatting preferences.
Merge Fields
Depending on your RIS and EMR etc, you can usually bring in at least some header-type information. Common examples include Exam Type, Patient Age, Patient Gender, Reason for Exam, and contrast information. The "Reason for Exam" field isn't always an amazing history, but it's a big time-saver when it works.
There is a "Merge" button in the AutoText editor toolbar that lists the available options in PowerScribe. Try adding them to your templates. If they end up blank in your report, then your system/techs don't have the data in the right place.
Note: You can turn off <tab>ing through auto-populated merge fields like patient age/gender: Tools>preferences>Editor: set "Merge field navigation" to "None". Other options are "Empty" and "Unmodified."
Auto-launching Default Templates
You can set your AutoTexts to auto-launch when you open a specific type of exam. Saving yourself from needing to say "Macro CT Head" 100 times a day does indeed add up.
In the AutoText editor, open a template. On the left, change the "Default" picklist from None to Report. Just below that, you can click on the site link to use the following pop-up menu to link the template to specific procedure codes. This allows PowerScribe to auto-launch the AutoText when the current exam type matches the linkage.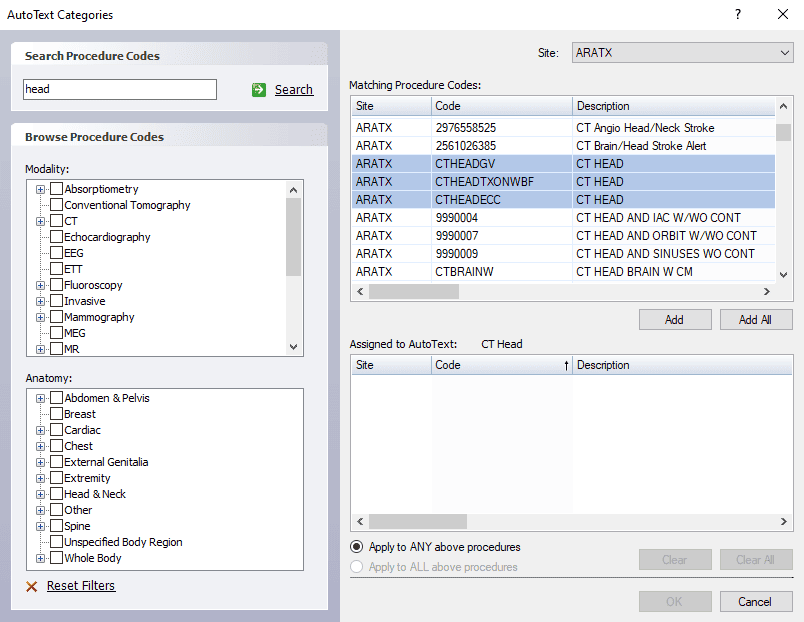 Depending on your working environment, there may be a lot of possible matches to get this working consistently. While you can browse manually, you'll probably have an easier time running a search from within the window.
It's a tedious process that can nonetheless save a substantial amount of time over the long run.
Note: You want the default "Apply to ANY above procedures" selected to have one AutoText be the default for a variety of different exam codes. "Apply to ALL" means that it has to apply all selections at the same time (this is what you could try in order to auto-launch a combo template like CT head & max/face).
Rare Magic: Findings Mode
If using a more granular template, an efficient search pattern that goes in order and minimizes travel helps with efficiency. Enabling voice navigation doesn't hurt either.
But, if you want to put the time in, PowerScribe templates can be configured to work with "Findings Mode", where freely dictated findings can automatically be routed to the correct fields within a structured report. This is the kind of thing that AI tools will surely improve in the near future and will probably make obsolete.
You can read Nuance's description and directions here.
Finally, Save Your Speech File
Save your speech file when voice recognition is going well. Then if it gets corrupted or stops working well you can revert to the good old days.
Click Speech > Checkpoint Speech Files.
Again, for long-term best performance, dictate to correct mistakes instead of typing. PowerScribe compares audio to results, so your typing can hasten your speed file's demise.
Conclusion
You're welcome.
For further reading, you could also check out the 36-page chapter on AutoText from Nuance's 286-page PDF.