I'm bumping my own post here because the swag bag registration deadline is coming up on December 5. Registering through the link here is also one of those effortless ways you can support this site while doing what you were going to do anyway.
I'm very much looking forward to speaking again this coming year at the Physician Wellness & Financial Literacy Conference (aka WCICON23), which will take place March 1-4 at the very nice JW Marriott Desert Ridge in Phoenix. If you have a CME fund to burn, I can't think of anything else I'd rather spend it on.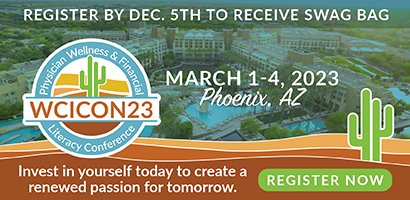 Code WCIPhoenix200 will net you $200 off an in-person registration. If you're still on the fence, the deadline for the goody bag is December 5th. If your plans change, you can also downgrade to virtual through January 25.